Free for All AVID Educators.
We Are Here to Support You During These Difficult Times.
During this period when schools are struggling to meet the new demands of distance learning, AVID wants to help by sharing relevant resources with all AVID educators. These lesson plans are easy to integrate at home, into face-to-face, remote, and online learning, both synchronously and asynchronously. AVID Weekly will be available at no charge to AVID-member schools for the rest of this school year.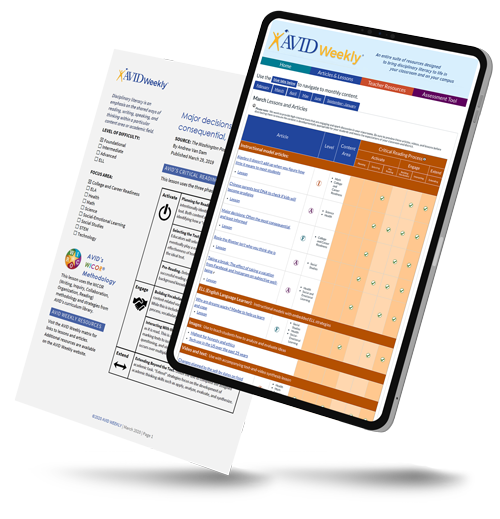 AVID Weekly is a curriculum resource that employs AVID's critical reading strategies and helps you implement state standards.
Articles and lessons that are easy for teachers to use
Can be successfully applied across all subject areas in the school
Designed for elementary and secondary
Lessons utilize AVID's WICOR methodology
Web-based and accessible any time you need them
Select lessons include ELL (English language learner) embedded scaffolds
To access AVID Weekly:
Log in to MyAVID.
Click the blue My eLearning button.
You should see a "tile" for AVID Weekly or AVID Elementary Weekly. Click the tile to enter.
Explore AVID Weekly.
Please contact [email protected] with any questions.