Ready-to-Use Resources
Lesson Plans to Develop Critical Reading Skills in All Students
AVID Weekly: Literacy Connections Schoolwide® puts literacy instruction resources at your fingertips. Access actionable lesson plans with resources you can use in your classroom today. Each lesson uses WICOR® (Writing, Inquiry, Collaboration, Organization, and Reading) strategies to analyze relevant texts, infographics, and images, allowing students to think critically and connect prior knowledge to their current learning. Choose lessons from three levels of difficulty to ensure the right level of rigor for your students. With new lesson plans released on the first of the month from September through June, you'll always be prepared to teach critical reading strategies in your classroom.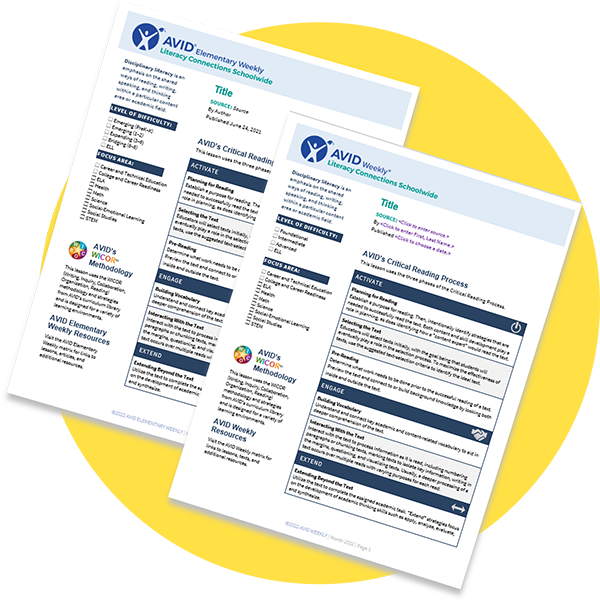 AVID Weekly and AVID Elementary Weekly are curriculum resources that employ AVID's critical reading strategies and help you implement state standards.
Articles and lessons that are easy for teachers to use
Can be successfully applied across all subject areas in the school
Designed for elementary and secondary
Lessons utilize AVID's WICOR methodology
Web-based and accessible any time you need them
Select lessons include ELL (English language learner) embedded scaffolds
Members: To access AVID Weekly or AVID Elementary Weekly:
Log in to MyAVID.
Click the blue My eLearning button.
You should see a "tile" for AVID Weekly or AVID Elementary Weekly. Click the tile to enter.
Explore AVID Weekly.
Please contact [email protected] with any questions.